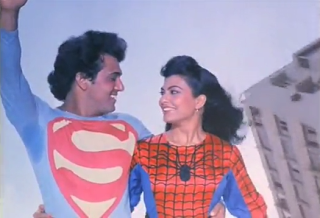 Here we see Superman with Spider Woman flying!
I came across a funny, yet charming Bollywood movie, "Dariya Dil". This is also known as "
Indian Superman
". It is a Bollywood rip off (they stole many of the special effects scenes directly from the Hollywood version which is illegal LOL) of the popular Christopher Reeve "Superman" film.
Here
's a good review of the film on Stomp Tokyo. I would like to see the entire movie, but so far have only seen bits and pieces on YouTube. If you'd like to watch a scene of them flying and singing a nice song download
this
. (37 MB)